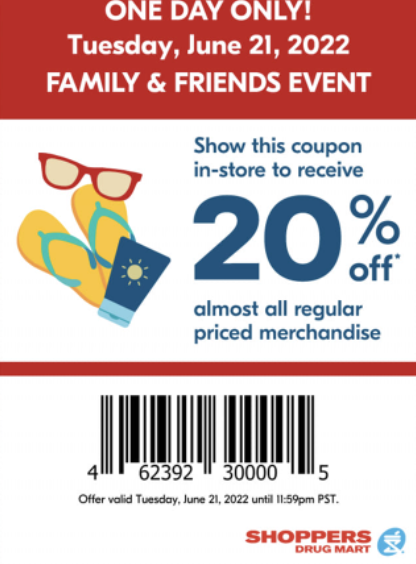 Today's Tuesday text offer from Shoppers Drug Mart Canada is a little bit different than the usual offers, however, it may be useful to some.
Today only get 20% off regular priced items at Shoppers Drug Mart when you scan this offer at the cash. This is a Friends And Family Event offer, and it can be used by anyone today. If you were not texted the offer, you can just scan the barcode from the picture in this post.
There is no minimum to spend for this offer, so if you just need to pick up a couple of items that are not on sale then this might be a good offer to use. If you are in need of any item that doesn't go on sale often then perhaps this offer would be useful today. If you do have a large purchase to make that is eligible for 20x the points, then you might want to wait for that type of offer. 20x the points is 30% back in points, which is a better value than this particular offer.
Click here to view the Shoppers Drug Mart Canada flyer for this week.